The Covid-19 (Corona) pandemic will not be 'over' anytime soon, and increasingly  it seems the world is going back to a normal mode of operation. But what does 'normal' mean? The way we worked and lived before early 2020? Or the way we should live and work? More sustainable? More digital? More local?
There are already plenty of advises out there, how you should run your Businee
There are already many newsletters and advice on how to rebuild your business after Corona. But these ideas are problematic for two reasons:
They do not consider the business as a whole, but focus on individual functions, such as marketing, supply chain or production. But a one-dimensional view can even be harmful.
The 'How To… advice is far too general for a company to work with. Unfortunately, there is no one-size-fits-all here either.
The number of so-called help is very confusing and often contradicts itself. Agency 1 says: Do this, agency 2 says: Do that.
ProVoix helps you to shed light on the future design of company processes and functions. How do you design important aspects in such a way that you can also
Translated with www.DeepL.com/Translator (free version)
In this so-called post-corona period, a return to a 'previous' successful track is at the top of the list of priorities for the majority of companies. But it is becoming increasingly clear that this does not necessarily mean the business models from 2019 or earlier. The crisis has also often provided food for thought. What more do we need and what more can we perhaps even do without.We have also seen that development processes, which sometimes took 2-3 years, have now become reality in a few days or weeks. So it works. But where exactly can we start? The only thing that is clear is that topics such as sustainability and digital transformation will continue to play a dominant role for companies in the future. This is where this workshop comes in.
The seminar will present and discuss concrete solutions that combine corporate digitalization with concepts of sustainability in a meaningful and value-enhancing way. Well-known management tools, such as the materiality matrix, provide concrete help in developing individual strategies for your own company.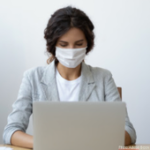 So – will we restart again as before? The calls for a more human, a more sustainable world can't be overheard. Most of us want that. However, looking at the significant economic downturn in most countries with millions of people loosing the jobs or businesses, it does not seem too likely to focus now on a better world. Saving my business and saving the world might seem too much in the beginning.
But that need not be a contradiction. Sure, it is about rebuilding our businesses, but it would be too short-sighted to assume that what worked in 2019 will work again in 2021. Standstill has always meant regression. We didn't have the time over the last two years to slowly develop our business further, but we need to jump two years ahead, coming from 2019.
What does that mean in concrete terms? How should companies restart? In Marketing, Supply Chain and Sustainability? In Human Resources and Globalization Strategy? In Process Focus and Business Continuity Plans?
The Initiative "Restarting Europe" is a network of high-level thinkers and practicioners from all areas of Business, trying to help mainly the SME's across Europe to restart successfully, in 2021 and beyond.
More to come very soon….   www.provoix.com/restart